Camp Hill, PA (September 7, 2023) – LeTort Trust is pleased to announce growth to our Operations Team through the recent additions of Tya Rumbel as Operations Specialist and Katrina Douglas as Client Concierge.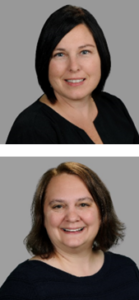 Tya provides support to the Personal Trust department, focusing on essential functions such as client bill pay, distributions, and compiling documentation for new accounts. Tya has an extensive background in the financial services and banking industry, most recently working as a Financial Service Representative for Ameri Choice Federal Credit Union.
Katrina plays a pivotal role in creating a welcoming environment for our clients, partners, and team members. She manages front office operations and is the point of contact for clients needing assistance. Prior to joining LeTort Trust, she worked as an Administrative Assistant for Ross Buehler Falk & Co.
"We are thrilled to welcome Tya and Katrina to our growing Operations Team. Their unique skill sets align seamlessly with LeTort's values, and their expertise will undoubtedly contribute to our mission of providing clients with top-of-the-line customer service and account management," said Greg Campbell, Director of Operations.
LeTort Trust is an Independent Trust Company, providing comprehensive Qualified Retirement Plan, Personal Trust and Wealth Management services designed for the complex financial needs of businesses, institutions, and individuals.